100s of fleet owners chose AVLView for a reason…
It's more than just a simple route mapping or vehicle tracking…
AVLView is an all-in-one Fleet Automation System that tracks vehicles on the map, monitors fuel usage, helps cut losses in half, and increases fleet productivity. It provides instant alerts, provides maintenance updates, automates trip schedules, encourages green driving.
Please listen, what you need is an all-in-one fleet automation system to systematize operation, not just GPS tracking. Get AVLView system now, make real progress FAST.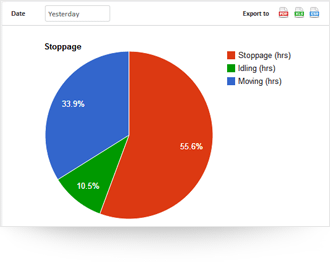 Charts
AVLView has made fleet management simple, elegant and easy to understand with the introduction of professional quality charts. Decision making has never been so easy before in any other real time GPS tracking application. No longer do you have to sit with a pile of documents on the fuel data, distance run and anything & everything related to fleet management. It's all right in front of you in the forms of charts; take a peep and realize what's happening with your fleet. Charts with AVLView are:
| | |
| --- | --- |
| | Stoppage : Lets you know for how long of a day your vehicle stopped, moved & engine idled. |
| | Time-Speed : At what time what was the speed of your vehicle, identify speeding points on map. |
| | Distance – Fuel : How much distance was covered with how many liters of fuel; know well, it's not cheap. |
| | Speed vs Fuel : Assess fuel usage by the variance in speed; realize how speeding affects fuel economy. |
| | Temperature : Monitor variations in temperature level of engine/freezers etc; upto 4 can be connected/vehicle. |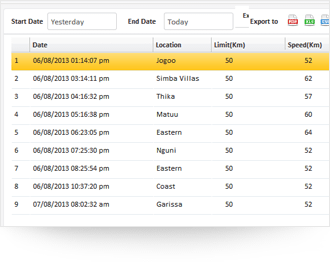 Reports
Make it easy to make smart decisions the moment next you feel there's something not right; do not let the words of drivers & manually filled trip logs influence your fleet operations. Have it all e-logged; trip reports based on time, ignition status & your located points on map. Simple yet neat & easy to understand reports on various fleet scenarios providing you an overall understanding on the flaws & loopholes on your fleet operations. AVLView offers reports on:
Overspeed
Speeding consumes more fuel and costs you more; identify the exact location & time of speeding.
Stoppage
Detailed report on when & where all your vehicle has stopped, for how long, along with timestamps.
Idling
Engine switched on, but vehicle not moving; fuel loss @ its best, identify drivers who do most and create awareness.
Transit
Gives you the places/villages through which the vehicles passed, time spent & distance covered in each place.
Trips (Ignition)
Trip report based on ignition status, ie., Trio report from Ignition switched on to switched off.
Trips (Scheduled)
Trip reports based on the schedules you made for each vehicle in 'Trip Schedule' module.
Trips (Location)
Offers you a location based trip report with all the points you made on map (warehouses, offices etc).
Alert Log
A cumulative report on all the notification alerts generated on a daily basis by a specific vehicle.
Monthly Distance-Fuel
Day to day report for a month on fuel consumed, distance covered and average mileage.
Refuel
Actual data on how much fuel was refilled into the tank (with timestamps) along with before & after values.
Drain
Actual data on how much fuel was drained out/leaked/stolen from the tank along with before & after values.